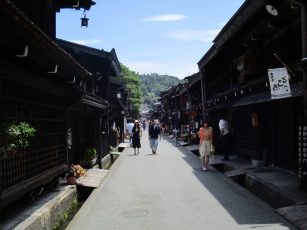 Takayama is a beautiful town in central Japan that retains the atmosphere of traditional Japan.
Walk its historic streets of timbered houses that ooze the charm and character of an age gone by.
Enjoy the lively morning market, shop for local crafts and relax in its serene temples.
Sample delicious food, such as the famous Takayama soup noodles (ramen), Hida beef, Chicken fried with sweet soy souce and try some of the best rice wine (sake) in Japan.
Takayama is beautiful throughout the season. 
Its seasonal charms include enchanting cherry blossoms in spring,
lively festivals and fireworks in summer,
blazing red and yellow foliage in autumn and a wonderland of snow and icicles in winter.
Takayama's central location makes it a convenient gateway to many sights in the area .
It is surrounded by hot springs, such as Okuhida Onsen, and is a good base to visit the world heritage Shirakawa-go & Gokayama villages or the great outdoors of Kamikochi in the ' Japanese Alps' .
And if you have less time to travel, Hida Folk Village enables you to see some of the famous thatched Shirakawa-go style farmhouses nearby.
Don't miss visiting one of the best places in Japan! We are looking forward to welcoming you in Ninja House Takayama